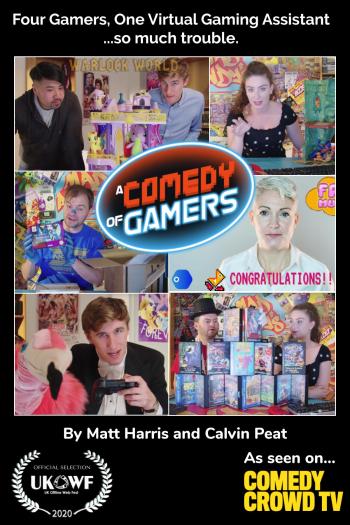 FESTIVALS / PRODUCERS

UKOWF
Join four dysfunctional gamers for the ride of their lives, when a digital gaming assistant shows up to knock them into shape.
Follow Andy, Georgia, Edmund and Tony as they
face their biggest gaming challenge ever. Meet
CYNDI, an AI training programme, who's going to make them the best gamers they can be, whether they like it or not.
Director Statement
I developed 'A Comedy of Gamers' as a creative side project over the last couple of years with my co-writer and assistant producer Calvin Peat. We focussed on creating a show that we could produce and finance ourselves. We modelled our show after classic studio sitcoms, packing in big characters and broad, silly humour.
This is my first time producing and directing a web series. It's entirely self-funded and I've managed all aspects of production alongside working full time at a youth employment charity and bringing up three small children.
Through various feats of planning and logistics and plenty of good luck I found our cast and crew and shot footage for five 10-minute episodes and a couple of bonus videos in just 3.5 days of filming.
We completed post production working with an international team through weekly video conference calls. My team delivered original graphics and music, combining these with our footage to tell each story in the clearest, most powerful way we could.
We're releasing our first season and building our audience right now. I'm massively proud of what my team has achieved. I believe we've created a show that mixes comedy and gaming in a way that no-one has ever seen
before.
Producing the show has already been a great way to connect and collaborate with other comedy creators. I've now assembled a virtual writers room to develop our second season. I look forward to hearing about how you've enjoyed the show.
Matt Harris
May 2020